Permission marketing is an advertising technique that works by gaining the consent of people before sending them advertising messages. The concept was introduced in 1999 by marketing expert Seth Godin. He explained that by marketing a product or service, you can increase sales by obtaining the consent of people. This method works best when you offer products or services that are a good fit for your target audience. Read on to learn more about this type of marketing.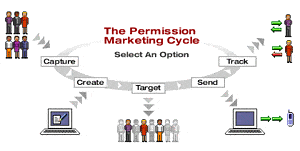 What permission marketing means
Permission marketing is a way to connect with consumers and get their attention. Is a process that develops over time for each individual company. It is not a new idea, but it is one that is increasingly valuable for companies. This strategy relies on digital messaging, such as e-mail and text alerts, as well as social media posts. The benefit of this method is that it can be done cheaply and efficiently. It allows companies to build relationships with customers, gain their trust and generate a higher quality of leads.
Permission marketing is legal as long as it is done in accordance with data privacy laws. It can be used in any channel, from newsletters to social media. To conduct email marketing with permission, you must first build an opt-in list. A list that is created this way cannot be scraped. You can do this by opting into a regular newsletter. This method is also used in social media, where users choose to follow your account, watch your stories, or subscribe to your channel.
Permission marketing is much cheaper than other forms of marketing. It helps you build a strong relationship with your customers and shows that you care about their privacy. This leads to increased customer loyalty.
Permission marketing meaning in business
Permission marketing is a way to market to customers who have expressed interest in a product. This strategy uses low-cost online tools to reach consumers who have expressed an interest in a product or service. Its benefits include a lower cost per conversion and increased sales. By using this methode, you can reach more consumers and improve your bottom line.
Permission marketing is effective for businesses because it lets users decide if they want to receive marketing messages. This increases the odds that they'll pay attention to what's on the message, which ultimately leads to more sales. This method is also a way to lower the cost of marketing because companies use low-cost online marketing tools to reach consumers.
This advertising method is different from traditional marketing in many ways. It allows businesses to provide valuable content to consumers in exchange for their contact information. This is a great way to gain insight into a consumer's wants and needs.
Importance of permission marketing
Permission marketing is a powerful promotional tool that can generate leads and build reputations. It allows you to communicate with your audience first-hand. In return, consumers give you their personal information in exchange for valuable content. Permission marketing also helps reduce the advertising costs. Unlike traditional marketing, which requires you to put yourself in front of as many people as possible, permission marketing lets you focus on a smaller group of targeted consumers.
Permission marketing relies on the principles of transparency and conversion.
By giving your customers the information they want, you'll be able to build trust and a stronger relationship with them. In addition, you'll increase your chances of converting them into loyal customers. With this, you can deliver relevant content to your customers and get their attention without spamming them.
This strategy has become increasingly popular with the rise of digital marketing. One great example is subscription email updates, where users opt-in to receive periodic updates and offers based on their preferences. Using this tactic ensures your customers' satisfaction, as customers prefer personalized offers.

Permission marketing advertising meaning
This concept means that consumers agree to receive promotional emails or messages from a business. This type of marketing has several benefits, including being personal, relevant, and low-cost. In addition, it allows businesses to market to only those consumers who have expressed an interest. This lowers their marketing costs and increases sales.
Permission marketing also helps businesses increase brand credibility by targeting a highly-targeted audience. The customer is more likely to trust a brand that knows and respects its customers. It is also more efficient, saving time and money. Using this marketing strategy to target specific audience groups is important, and there are several benefits to consider before implementing this strategy.
Permission marketing focuses on respecting the consumer's privacy. This is different from the old interruptive marketing tactics that often annoy consumers. It relies on the consumer making the decision to receive promotional messages, and it is much better for brands to respect the consumer's personal preferences.